Robotic Mig welding ----Street Lamp Pole welding solution
1. Work piece information
2. Robotic welding Solution Overview
3. Robotic welding Solution Process
4. Robotic solution Equipment Configuration
5. Main Function 6. Introduction of Equipments
7. Installation, Commissioning and Training
8. Check and Acceptance
9. Environmental Requirements
10. Warranty and After sale service
11. Delivery Attached Documentation
        Robotic welding Application Video
-Welding wire Diameter: Ф1.2mm
-Welding process: gas shielded welding/Mig welding
-Weld seam type: straight line type, Circle type
-Shielding gas: 99% CO2
-Operation Method: manual loading and unloading, robot automatic welding
-Fitting up Error: ≤ 0.5mm
-Plate Cleaning : metallic luster can be seen in the weld and within the range of twice height of weld seam on both sides
2, Robotic welding solution Overview
    In order to improve work efficiency, according to the actual situation of workpiece, Honyen factory will provide a set of welding robot workstation, which can be replaced with different tooling to be compatible with different products. The workstation is composed of robot model: HY1006A-145 welding robot, welding power source, special welding torch for robot, electrical control Cabinet and buttons,water cooling chiller, double working station positioners, Tooling fixtures, safety protection fence (optional) and other parts.
3,Mig Welding robotic workstation Layout introduction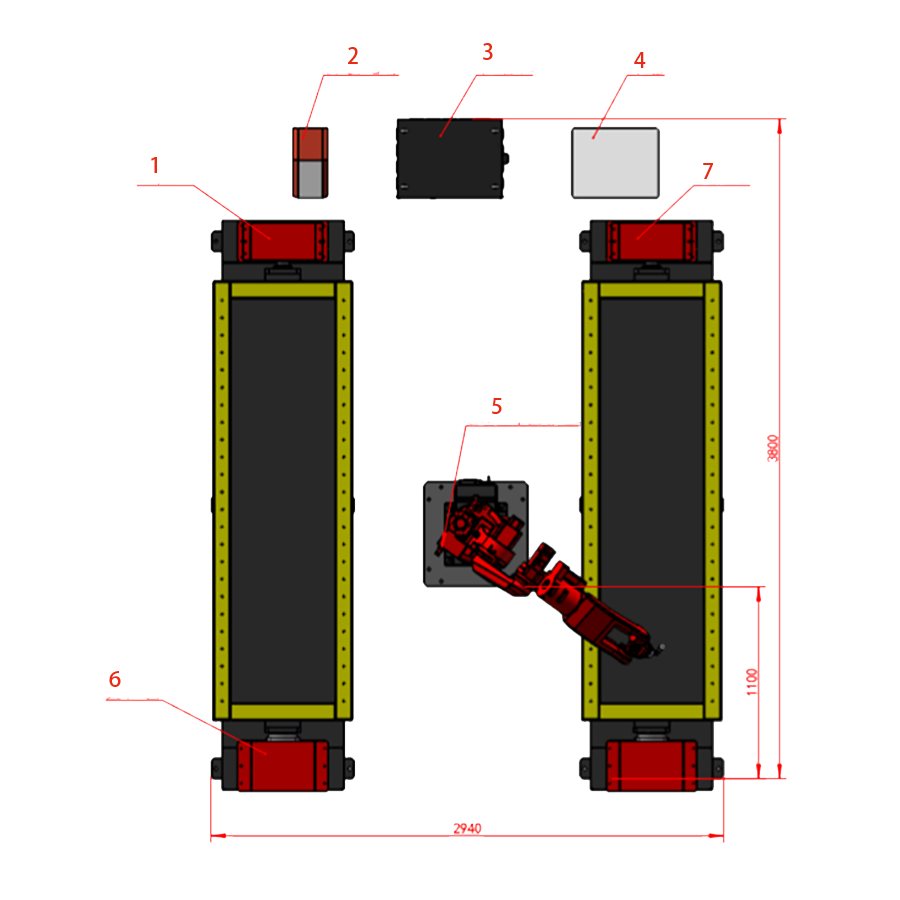 Honyen robot arc welding workstation Layout
1, Working station 1
2, Welding Power source
3, Robot controller
4, Water cooling chiller
5, Honyen arc welding Robot, HY1006A-145
6, Positioner 
7, Working station 2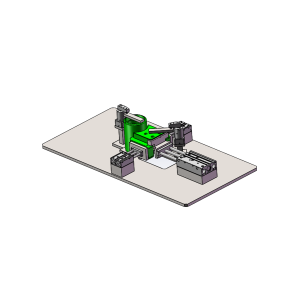 Electric pole parts fixtures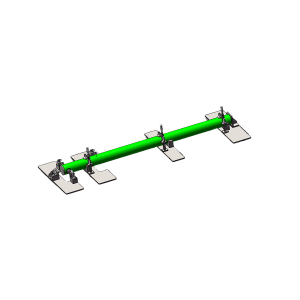 Electric pole parts fixtures 2
Robotic welding solutions Layout 1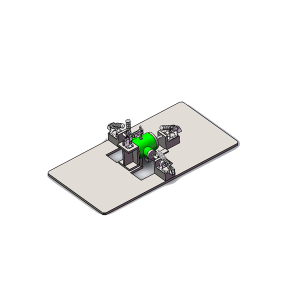 Electric Pole Parts Fixtures 3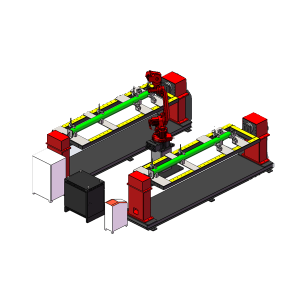 Robotic welding solutions Layout 2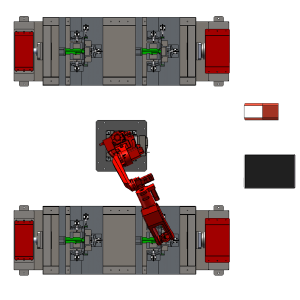 Robotic welding solutions Layout 3
4. Robotic welding Solution Process
I. Operator loads workpiece at station 1, After loading and clamping it. Operator presses robot reservation start button 1, and robot starts automatic welding;
II. Operator goes to station 2 for workpiece loading. After loading workpiece, Operator presses robot reservation start button 2 and waits for the robot finishing welding;
III. After robot finishes welding at station 1, it automatically carries out the program of station 2;
Ⅳ. Then Operator unloads Workpiece at station 1 and loads a new workpiece ;
V. cycle in sequence.
5. Robotic solution Equipment Configuration
Item

 

Model

Quantity

Brand

Remarks

 1

1.1

Robot body

HY1006A-145

1 Set

Honyen

Including robot body, control cabinet, teaching programmer

1.2

Robot control cabinet

 

1 set

1.3

Welding power Source

 

1 Set

Honyen

Megmeet welder

1.4

water tank

 

1 Set

Honyen

1.5

Water cooling welding Torch

 

1 Set

Honyen

2

1 Axis positioner

HY4030

2 Set

Honyen

2.5m, 300kg load, 1.5KW rated output power

3

Electrical control station

 

2 Set

Honyen

 

4

System design, integration and programming

 

1 Set

Honyen

 

5

Safety fence

 

1 Set

Honyen

Optional
In order to ensure welding quality and efficiency, robotic system is equipped with perfect self-protection function and arc welding database. The main functions are as follows:
Resume original path: when shield gas flow is abnormal, welding wire consumed and temporarily stopped during welding, the command of "continue welding" can be directly called after troubleshooting, and robot can automatically continue welding from any position to the suspended position. 
Fault detection and prediction: after alarm happens, Robot obtains data from control device, speculate fault parts, and give a list of high fault parts in turn, display the sequence of components replacement and diagnosis on computer, which can be viewed on site with teaching pendant. In addition, the computer regularly Obtain operation data from robot, analyze the obtained data, judge whether operation state of robot is normal, and prompt user to deal with upcoming fault.
Anti-collision function: when robot welding torch makes a crash with external objects, robot anti-collision device works to protect welding Torch and robot body.
Expert database: by setting necessary welding conditions in a program, this system can automatically complete arrangement of weld seam and adjustment of corresponding welding parameters.
Teaching and programming: realize on-site programming through teaching pendant.
Weave welding: during welding process, Robot can not only realize the common swing welding round type and Also Z type. This helps robot realize customer's  swing welding function according to work piece shape, so as to increase weld seam width with welding strength and good welding performance.
Status display: robot can display operation status of whole robot system through teaching pendant, including program operation status, welding process parameter changes, system parameter changes, current position of robot, execution history records, safety signals, alarm records, etc., so that customers can timely understand the status of robot system and prevent problems in advance.
Input / output files: robot system files and program files in the robot system can be stored in SD card inside Robot controller, and also can be saved to external equipment. Programs written by offline programming software can also be loaded into Robot controller, This helps customers back up system files regularly, Once there is a problem in the robot system, These backup can be restored to solve problems of the robot.
7, Introduction of Equipments
HY1006A-145 is a high-performance robot with intelligent function. It is suitable for gas shielded welding and cutting applications. It's characteristics is light weight and compact structure.
For arc welding applications, Honyen has successfully designed a light weight and compact arm, which not only ensures original reliability, and also realizes excellent cost performance.
Honyen adopts the most advanced servo technology, which can improve motion speed and accuracy of robot, minimize operator's intervene, and improve working efficiency for gas shielded welding and cutting.
| | | | | | | |
| --- | --- | --- | --- | --- | --- | --- |
| Axis | Payload | Repeatability | Power capacity | Environment | Weight | Installation |
| 6 | 10 | 0.08 | 6.5KVA | 0~45℃20~80%RH(No Humidity) | 300kg | Ground/Ceiling |
| Motion Range J1 | J2 | J3 | J4 | J5 | J6 | IP level |
| ±170° | +80°~-150° | +95°~-72° | ±170° | +115°~-140° | ±220° | IP54/IP65(wrist) |
| Max speed J1 | J2 | J3 | J4 | J5 | J6 | |
| 158°/s | 145°/s | 140°/s | 217°/s | 172°/s | 500°/s | |
Full Chinese operation interface and can be changed into English with full keyboard operation
Support various communications including I / O interface, Modbus, Ethernet etc.
Support connections with multiple robots and other external equipment
Big size colorful touch screen
Configured anti-collision device, protecting robot arm and reduces interference
Robot Motion control provides optimal path planning
Hundreds of built-in function bags and functions simplify programming
Through SD card, it is convenient to back up and copy data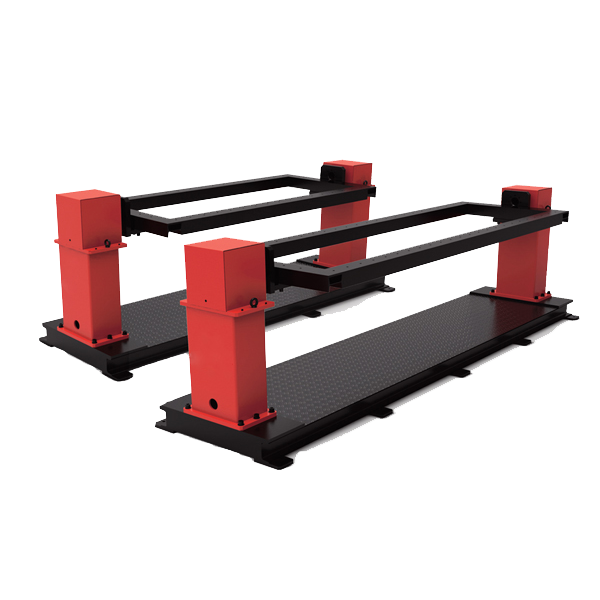 Honyen Head-tail double support positioner which is used to rotate workpiece, cooperate with  robot, reach a good position for welding and achieve good welding performance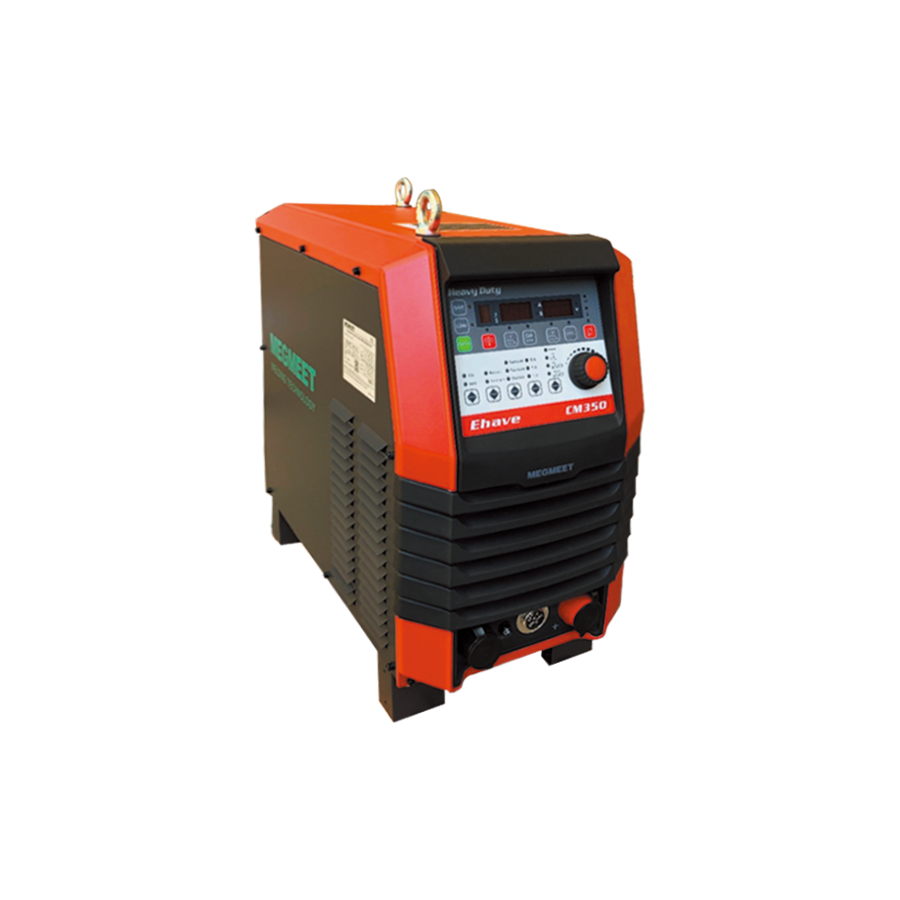 Megmeet Ehave cm 500h / 500 / 350 series full digital industrial heavy load * CO2 / MAG / MMA intelligent welding machine
8. Installation, Commissioning and Training
Before delivery, the robot system will be assembled and fully functional tested in our company. Customer will deliver their parts to our company for trial welding and pre-acceptance before delivery. During pre- acceptance, Customer's operators will receive initial technical training. 
Installation plan and technical requirements will be submitted to customer 15 days before installation, and customer shall make timely preparations according to requirements. Our company will send engineers to carry out system installation and commissioning at the user's site. Under the condition that customer ensures sufficient commissioning workpieces, the time from programming commissioning, personnel training to mass trial production shall not exceed 10 days. Our company trains users of robot system programming, operation and maintenance for customers, and trainees should have a computer's  basic knowledge. 
During installation and commissioning, customer shall provide necessary tools, such as lifting equipment, forklift, cables, impact drill, etc., and provide temporary assistance during unloading and installation. 
Our company is responsible for guidance, installation, equipment commissioning and training of operator.  Our company is responsible for maintenance and operation training. Operator will operate and maintain the equipment on their own.  Training contents: equipment structure principle, common electrical troubleshooting, introduction to basic programming instructions, programming skills and programming methods of typical parts, introduction and precautions of equipment operation panel, equipment operation practice, etc.
Pre-acceptance is carried out in our company with the participation of relevant workers of both parties. During pre-acceptance, workpieces  shall be tested according to accuracy of workpiece provided by customer, Only qualified workpiece shall be welded, and pre-acceptance test report shall be issued. After finish acceptance, Robot shall be delivered. In order to ensure pre-acceptance, 3 workpieces will be provided for normal production.
10. Environmental Requirements
Safety requirements: gas and spare parts used by users must comply with relevant national standards.
Air source shall be set outdoors, not less than 15m away from fire, and not less than 15m away from gas and oxygen. Air source shall maintain good ventilation conditions and be in a cool place away from wind.
All gas circuits must be checked before using robot. If there is air leakage, it must be repaired to ensure that there is no mistake.
when adjusting the pressure and changing gas cylinder, operator shall not have oil substances on his hands.
ambient humidity: in general, the ambient humidity is 20% ~ 75% RH (in case of no condensation); Short term (within 1 month) less than 95% RH (occasions without condensation).
compressed air: 4.5 ~ 6.0 kgf / cm2 (0.45-0.6mpa), filter oil and water, ≥ 100L / min
Foundation: minimum concrete strength is C25, and the minimum thickness of foundation is 400 mm
vibration: keep away from vibration source
power supply: power supply of all manufactured electrical and electronic equipment adopts 50Hz (± 1) and 380V (± 10%) three-phase AC voltage to ensure primary grounding of power supply.
On site services provided by customers:
all necessary preparations before delivery, such as foundation, necessary welding work, fixing auxiliary tools, etc.
unloading and transportation at the customer's site.
11. Warranty and After sale service
The warranty period of weld power source is 12 months.
The warranty period of the robot body is 18 months.
In case of failure or damage under normal use and the equipment is within warranty period, our company can repair or replace parts free of charge EXW(excluding consumables, maintenance products, safety tubes, indicator lights and other consumables specially designated by our company).
For vulnerable parts without warranty, our company promises normal service life and supply price of vulnerable parts, and equipment has a stable supply channel of equipment for up to five years.
Out of warranty period, our company will continue to provide lifelong paid service and provide comprehensive technical support and required equipment accessories.
12. Delivery Attached Documentation
Installation drawings: equipment foundation construction drawings and equipment installation drawings
◆ design drawings: fixture and equipment drawings
◆ Manual: equipment operation manual, maintenance manual and robot operation manual
◆ accessories: delivery list, certificate and warranty card.